I know things have been a little quiet around here as we hit the busy holiday season full-on. It just now started to dip down enough for me to catch my breath and soak up all the lovely 2D motion design trends I've seen in the past year.
I admit I was inspired by this Envato article: Graphic Design Trends: Top 10 Styles for 2020 Please check it out for another perspective on motion design trends.
Latest 2D Motion Design Trends
1. Small stage
The Hero's Journey by Iskander Krayenbosch may have come out last year, but I feel the small stage trend is one that started to catch on this year and will continue into the next. I've seen it used 3d and 2d and is often paired with slick transitions.
It's a good storytelling device to take a peek behind the curtain a bit and reveal the big picture. It can be also useful in connecting many backgrounds and settings in a short amount of time.
In the Hero's Journey, the backgrounds are cropped with an iconic track matte to help you immediately recognize a scene from a famous movie and also emphasizing the stages of the journey.
2. Handcrafted
The handcrafted and handpainted look comes with many different sub-styles and looks that are hot. This first example, " Airbnb - Love" by Oddfellows, is using thin lines (often offset from the solid colors), negative space, and pastel colors.
There's also looping texture in the background to give a quick and easy little "rolling boil" to the piece. There are great transitions that parallax and write-on thanks to the elegant lines that whisk you away to the next scene.
Here the look goes hand in hand with the theme of caring, love, and helping your neighbor. It's a personal message and so it has a personal look.
Events - Facebook" by Moth goes a bit in a different direction with gritty textures, hand-painted edges, and bright contrasting colors. It's in a chunky printmaker kind of a look. It's meant to accentuate the fun, tropical tone of the piece. Just another take and use for the handcrafted trend.
Handcrafted is not just a trend in the 2D motion design world but it also emerging in 3D. This video by Art & Craft for the National Lottery is almost kind of Gouache-D. Gouache is a thick water-based paint made famous in the 60's illustrations.
Lots of dry brush techniques and layers of colors. There's a bit of mezzotint grit on some of the scenes, but also heavy on the painted edges. You can see the 60's influence on the design of the simplified trees as the runner dashes past and transitions to the next scene.
It all looks painstakingly illustrated and beautiful, and what better way to say "Thank You". Although this post is mostly about 2D, I felt like this one needed to be included for completeness.
Last but not least, is a piece I helped out with a few shots on. This one is by Carbon VFX for Redbull and combines live-action sports with 2D Manga and Comic book elements.
The 2d styles are lead by the action of the front wheel of the bikes, transforming some of the pieces that it interacts with and bringing them to life in this energized 2d comic book look.
The animated elements are meant to highlight the action and tricks, adding an extra layer of visual interest to the piece. Track mattes, outlines, layer styles, and heavy use of 2D tracking were used to illustrate this piece. Visit the link to check it out! Credit to Jake Matthews from Carbon on that beautiful eagle shot!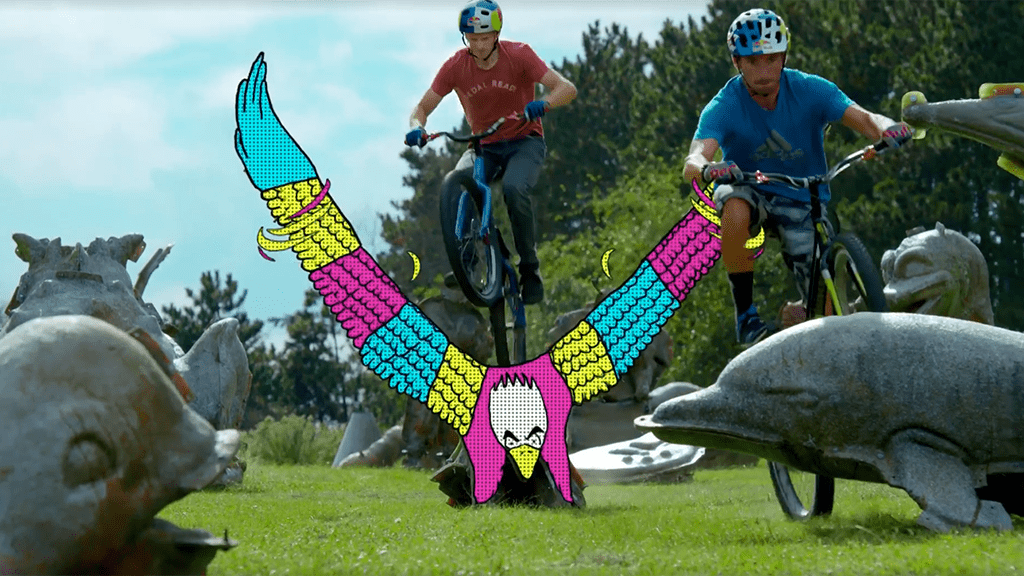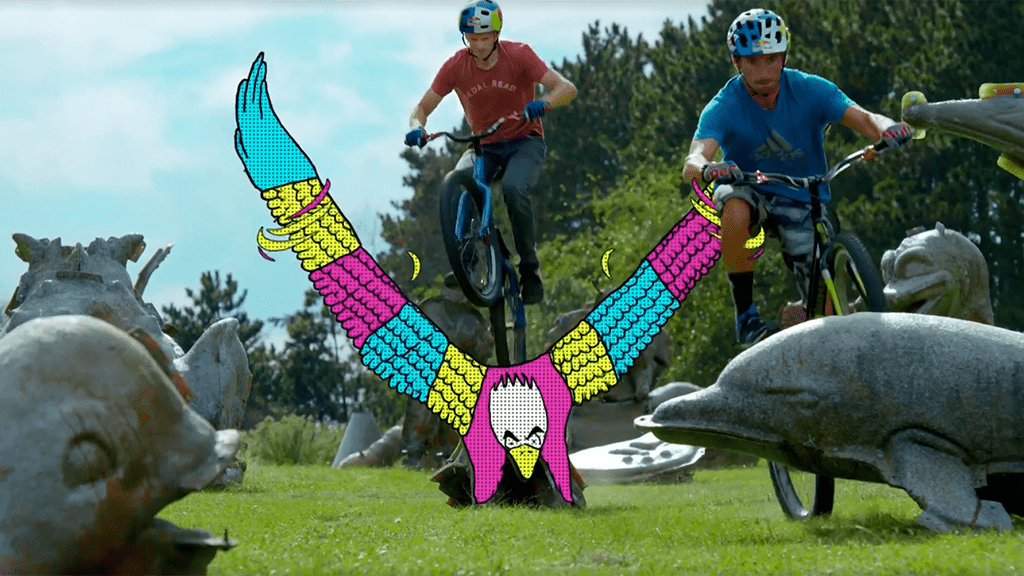 3. 
High Contrast Cel Animation
I didn't group this in the handcrafted section as cel-style animation, or frame-by-frame is really its own thing. Some will even argue that it doesn't fall into the motion design or motion graphic category.
I think we've been seeing a crossover of cel-style with some motion graphic short cuts the past few years which is why it's worth mentioning. Chuck Taylor by Golden Wolf is an example of a hot trend in simplifying the form with an angular design and using bright, contrasting colors.
There are some clever transitions that make this a seamless piece and sort of feel like a one-shot which is a total mo-graph-style move. My prediction is that we'll see a lot more cross-pollination with mo-graph and cel-style this upcoming year.
4. Data Collage
Glitched-out data-driven collage pieces have never really gone away. We are a tech-obsessed society, so naturally, there will be a need in the motion design world to illustrate that. But the way MK12 animated Watch Dogs I feel this style has turned a corner.
There are abstract 3d data visualizations decorated with typical HUD elements that transform into narrative imagery and seamless blend into architecture and geo-locations.
All this is constantly moving and smooth, perfectly illustrating select see-and-say parts of the Cinematic.
Check out the Breakdown Watch Dogs 2 Opening Cinematic by MK12 on Motionographer.
5. Op-Art 
Minimalism
Minimalism has had a long run as a motion design trend. This example, π, by Somei, is poised to extend that fascination. Butter smooth keyframing paired with smart quick cuts, bold design and the play of 2D/3D op-art take this animation to the next level.
It illustrates π to mathematic perfection with numerical sequences, bisecting of geometric shapes, and the golden ratio of the screen design.
This piece took inspiration from a video by Bito so it's only fair to include that here as well. Bito's piece leans heavily on the op-art side and kind of sleight-of-hand transitions. I particularly like the inclusion of small people to give it a sense of scale.
6. 3D and 2D
2016 seemed to me to be the big year of 3D & 2D combos. It was everywhere you looked. There were loads of tutorials showing how to render 3D with a cel shader to get a flat 2D look, and also how to use renders from C4D seamlessly inside of After Effects. This example is from Apple Films and it uses soft realistic 3d which another trend that is on the rise.
It's only fitting that this is the last entry in the 2D trend post as I prepare to write about the Latest 3D motion design trends next week.
Please let me know what you think and if I missed anything in the comment section. Cheers! See you next year!
Need 2D Motion Design?
We're here to help! Send us a quick email to start the conversation and see if we are a good match.